The Singapore Embassy will be commemorating 55 years of diplomatic relations between Cambodia and Singapore at WB Arena from 15th – 29th February.
WB Arena is an exciting new outdoor retail and entertainment concept for Phnom Penh. In 2020, we are pleased to have the opportunity to celebrate the friendship between the Cambodian and Singaporean community.
Sreet Art Fest++ is one of its kind, a major collaborative effort from many parties around the region. Come join us in these 2 weeks event and celebrate together food, music and arts! Admission is free for all.
Street Art Fest 2020 will be gathering all artists and people of all ages as well as bringing culture and heritage together featuring 2 renowned artists – FONKi & Yip Yew Chong.
Yip Yew Chong, a famous Singaporean mural artist, has more than 40 heritage artworks showcased around many corners of the lion city. Known for his live sized nostalgia art, people of all ages enjoy interacting with them, which brings back good memories of the hustling and bustling olden days Singapore.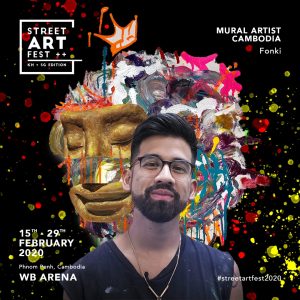 FONKi, the famous Cambodian artist from Montreal is one of the prominent figures in Montreal's new generation of graffiti artists. As one of the pioneers of Kbach style graffiti, FONKi shares art through his heritage roots – Cambodia. Since he was 15, Fonki has since been a street wall artist, making impressions around the world. His dedication throughout the years has earned him recognition and exhibitions in famous galleries.
Both artists pieces will be auctioned at the event where proceeds will be contributed to the Cambodian Children's Fund and Cambodian Living Arts (CLA).
> Do not miss the opportunity to discover WB Arena during this special event. Along National Road 2 by the riverside, WB Arena is the perfect place for friends and families.
The Mall Company provides WB Arena with a complete range of exclusive services including Mall Management as well as Exclusive Mall Leasing and Marketing.
⠀⠀⠀⠀⠀⠀⠀⠀⠀