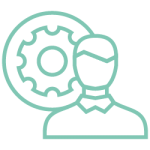 Our retail space and mall management operations are the most tailored and professional in the market.
It's important for retail developers to consider mall management and the operation of retail spaces from the initial design stage. The teams at The Mall Company have built a process which maximises efficiency, provides the sales & leasing team with additional selling points, helps eliminate financial risk for the developer, and enhances the developer's reputation.
Our service delivery solutions optimise each retail environment and adapt as the retail space evolves. Providing sustainable services which are supported by strong technical capabilities and market compliance, delivering a high-quality service with a strong cultural fit.
It is important to us that our customers can focus on their core business operations, safe in the knowledge that their retail centres and facilities are in good hands. So we help our customers build the right foundations for future growth by optimising their mall infrastructure. Our service minimises interruptions to business and reduces costs while adhering to all statutory compliance's.
The Mall Company's team of experienced managers ensure all aspects of operations are planned and maintained carefully, because we understand that the slightest interruption to business impacts sales and profit. We are committed to creating the planning, staffing, and communications coordination to guarantee our projects are executed at the highest level of professionalism so that your customers enjoy every visit to your shopping center.

Mall Management Consultancy
Our Mall Management Consultancy service consists of work that is essential at the earliest stage of development planning. Making sure that Mall Management is well organised, structured and not an afterthought to the development.
Mall Management Consultancy includes building every role and responsibility into a clear and understandable organisation map and done well can also become a sales tool and unique selling point. Alongside a well apportioned Management Service Fee, which eliminates financial risk to the developer while offering competitive rates to purchasers.

Mall Management
High standard Mall Management requires many individual strands of service. Centrally, the day-to-day operation, management and oversight of all components required in managing a retail centre. Ensuring the retail centre is managed following our first class internal standards and the principles and quality of international mall management.
The employment of a specialists team and organisation structure as well as on-going training and executive team supervision and oversight. A Professional Retail centre Management Team creates and implements all working systems and procedures for the retail centre.
General Mall Management
Optimizing operational cost / waste
Optimizing capital expenditure costs
Property inspections
Tenant management
Facility Management
Customer service
Emergency and safety protection
Tenant coordination
Space management
Fitting-out manuals and guidance
Retailer meetings & follow-up
Retailer Services coordination
General Retail centre and tenant control
Hand Over Forms & Agreements
Foot-Traffic Management
Managing foot traffic
Space efficiency Management
Mall interiors enhancement
Improve sightline / Visibility of the retail stores
Events
Compliance management
Rules and regulation
Resident Handbook
Property inspections
SOP Creation
Customer service centers
Control and oversight of operations
Day-to-Day operations
Contractor Tender Process
MEP maintenance
Cleaning
Security
Pest control
Recycling and waste disposal
Utility management
Fire protection facilities
Human
resources
Employees coordination
Contracts
Internal HR Policies
Payroll and budgets
Financial management
Accountancy Practices and Procedure
Insurance
Budgeting
Cash receipts and Income Collection
Payment for Services
Audit