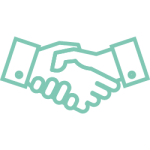 We know the retail industry players, large and small, as well as sector-specific retailers that are looking for new opportunities. Our eyes are always on the market, looking for potential new tenants. Our aim is to be proactive leaders in the retail market and maintain our reputation in the retail real estate sector.
From the moment potential tenants see the marketing collateral prepared by our team, they will know they are receiving much more than space in a new retail development. Your tenants will understand that they are an important part of a project that has a clear vision, theme, identity and defined shopping experience.
When it comes time to enter into contracts, our attention to detail and commercial real estate experience will ensure fast and reliable outcomes for you and your tenants. The legal suite of documents will be carefully drafted to leave no room for errors or omissions. Lease agreements will be implemented by a team with years of experience in Cambodian commercial real estate.

Retail partners and market opportunities
We are experienced players in the Cambodian retail market, having formed strong relationships with growing brands and conglomerates. Savvy retailers know The Mall Company provides excellent opportunities, a high level of professionalism, diligence and commitment to long lasting relationships. We will use our existing network to give mall developers important leverage in the market.

Marketing collateral
Retailers independently study and understand their market, so it's important to clearly demonstrate your extensive knowledge of the local environment. With The Mall Company, you will have presentation material that is unrivalled in detail and professionalism. From the brand and identity of your shopping complex to fact sheets and technical guides, our marketing collateral will attract marquis retailers.

Negotiations, contracts and ongoing service
Guiding prospective retail tenants through negotiations is one of The Mall Company's specialties. We understand how the lease agreement will be implemented, the realities, the implications, the real-life impact. It's this transparency and thoroughness that gives our existing retail clients peace of mind. We remove doubts by volunteering information on rules, regulations, conditions and laws. Over many years of conducting business, we have perfected an excellent sale and leasing methodology.
Retail Leasing
Target Tenant Schedule
Anchor and Sub-Anchor Tenants
Priority Brands
Leasing Marketing Strategy and budget
Leasing document tracking and management
Deposit payment and handover
Oversight and feedback to the client
Tenancy schedule
Leasing & Marketing Pack
Offer to Lease, Letter of Intent, MoU
Lease Agreement
Rules and Regulations
Terms and Conditions
Sales / Leasing brochures
Detail Sheets
Fact sheets