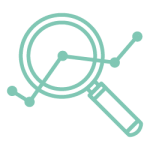 When it comes to creating a mall that will become a central hub within a community or district, retail real estate sector research is critical. The Mall Company provides an in-house Central Research Department that is one of the most advanced sources of consumer data and survey analysis in Cambodia.
We not only find the most relevant data to inform the planning of your development project, but also able to conduct our own surveys. The Mall Company analyses existing and original retail real estate data to find obstacles and opportunities that alter outcomes and give your shopping center a strong foundation for continued growth and profit.
We find the hidden traps, target the right demographic, and finetune a long-term strategy that makes success sustainable and scalable.

Data
The Mall Company continually sources and acquires the most up-to-date market information available. We also conduct our own surveys for retail clients to uncover important local trends. The Mall Company does not settle for macro views of the South-East Asian or global markets. Our Central Research Department digs deeper to find crucial data relevant to the Cambodian market.

Analysis
Without the expertise and talent to develop facts and statistics into understandable information, data will never reach its full potential. The Mall Company finds the correlations and anomalies, revealing important conclusions that will guide your development to success. It takes experience and skill to turn data into actionable goals. That's why retail sector research is one of the key pillars of our business model.

Reporting
Our concise reporting provides the clarity and actionable goals retail projects require. Delivering key information on demographics, catchment areas, competitor analysis, and a broad understanding of the retail market, we will clearly demonstrate how you can turn your development into a shopping hub that maximises retail client occupancy. With The Mall Company's services, clients will attain critical positioning, brand identity and planning required to maximise success.
Retail Sector Research
Existing retail space supply
Pipeline retail space supply
Retail centre occupancy rates
Existing retail centre categories
Pipeline retail centre categories
New and existing retail centre concepts
Retail rents matrix
Retail rent structure
Retail categories
Lease terms review
Lease clauses review
Retail Project Research
Existing and pipeline comparable retail centres
Existing and pipeline competitor analysis
Retail centres occupancy rates
Tenants and tenant mix
Positioning
Catchment area demographics
Target customer base
Occupancy